Specialists in temperature control
GEORGE REFRIGERATION
IS THE EXPERT SPECIALIST IN REFRIGERATION & HEATING, VENTILATION AND AIR CONDITIONING (HVAC).

Temperature is critical to a multitude of commercial and industrial processes.

Assurance that your heating or cooling systems and equipment are operating within the exact tolerances demanded is the peace of mind that George Refrigeration delivers.

We are specialists in air conditioning, rack systems, pharmaceutical and supermarket refrigeration and customised refrigeration for all commercial and industrial applications.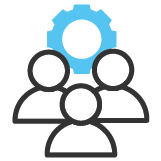 Our skilled people bring extensive professional knowledge and practical experience to consulting, planning, supplying, installing, maintenance and servicing of refrigeration and temperature control solutions.
"We listen well to our clients so we can deliver professional service and quality workmanship. Every time."